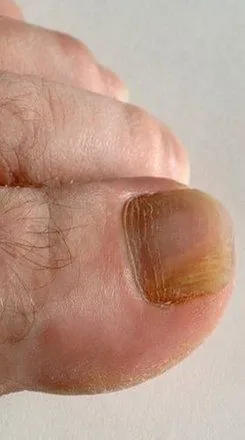 Onychomycosis is a fungal infection of the toenails or fingernails. This ailment causes fingernails or toenails to thicken, discolor, disfigure, and split. At first glance, onychomycosis appears to be only a cosmetic concern. However, without treatment, the toenails can become abnormally thick forcing the toe to press against the inside of the shoes, causing pressure, irritation, and pain.

Generally, onychomycosis does host any symptoms. Individuals seek treatment for cosmetic reason, not because they are experiencing pain. However, if the disease continues to progress without treatment, onychomycosis may interfere with standing, walking, and exercising.

Onychomycosis is easily identified by its appearance. However, there are similar conditions and infections that can cause the nails to host a similar appearance to onychomycosis. Onychomycosis is generally established by laboratory tests before beginning treatment. Treatments for this condition can be long, expensive, and have associated health risks.

Risk factors making one more susceptible to onychomycosis include:
Family history
Advancing age
Poor health
Trauma
Showering in communal showers—such as fitness clubs
Habitually wearing shoes don't allow proper airflow

Treatment options vary by individual and severity of the ailment. Talk with your doctor about what treatments will work best for you.
Why KeryFlex Nail Restoration System?
Few options for patients with nail disorders (e.g., onychomycosis, onycholysis, diabetes, infections, ingrown nails, psoriasis, onychogryphosis, and beau's lines)
Repeat visits for care because appearance of nails is important to patients
Provides less of a risk of obtaining nail-skin infections via pedicures for their unsightly nails
Special occasions or vacations may warrant esthetically pleasing nail appearance
Current oral antifungal therapy is expensive and often not a viable option for many patients
Benefits of Keryflex System!
Doesn't irritate the skin
Only sticks to the callous cells of the nail or the papillary roots
Will not bond to skin, allowing a natural edge to be fabricated
Allows patients to use antimicrobial solutions to treat fungal infection
Provides for cosmetically pleasing nails during oral antifungal therapy
KeryFlex nail is durable, flexible and moves with the foot
How Does KeryFlex Work?
Nail bed is prepared, with debridement of the nail
KeryFlex Bond is brushed onto the nail plate and nail bed
KeryFlex Resin builds up the nail and allows sculpting and contouring of the nail
KeryFlex Seal is applied after the modeling process is completed
Ultraviolet light hardens the substances within 2 minutes