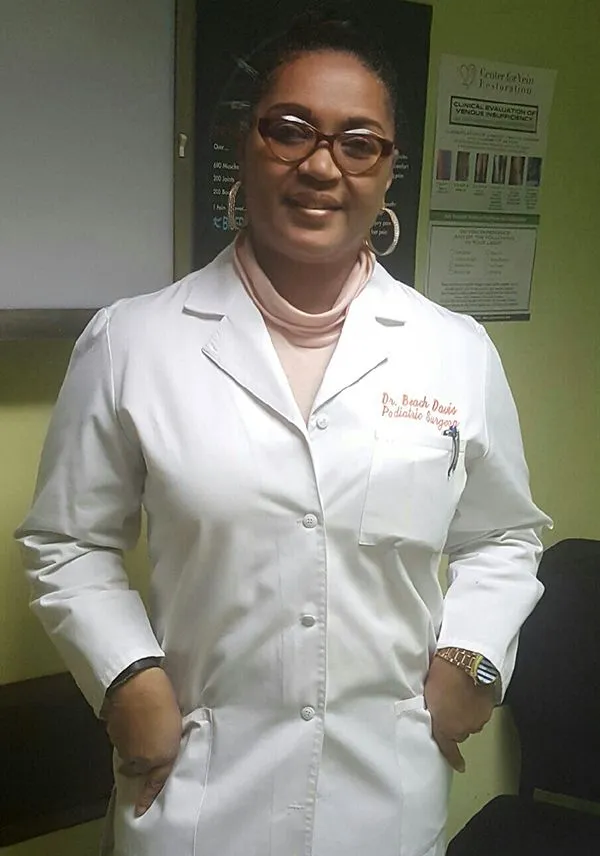 About Dr. Beach Davis
I am a solo practitioner who has been maintaining a private practice since 1997. I earned my undergraduate degree from University of Maryland Baltimore County and Doctorate of Podiatric Medicine from Pennsylvania College of Podiatric Medicine (PCPM), now known as the Temple School of Podiatric Medicine (TUSPM). I completed a medical and surgical residency program, over a period of three (3) years, with forefoot and rearfoot training, at Wyckoff Heights Medical Center, located in Brooklyn, New York.
PROFESSIONAL AFFILIATIONS:
I am a current member of the American Society of Foot and Ankle Dermatology (formally American Society of Podiatric Dermatology, ASPD), American Podiatric Medical Association (APMA), National Podiatric Medical Association (NPMA), Maryland Podiatric Medical Association (MPMA), American Association Podiatric Practice Management (AAPPM), Academy of Ambulatory Foot and Ankle Surgery (AAFAS), and Alpha Kappa Alpha Sorority, Inc..
HOSPITAL AFFILIATIONS:
University of Maryland, University of Maryland Medical Center Midtown Campus (Formally Maryland General Hospital), University of Maryland Rehabilitation and Orthopedic Institute (Formally Kernan Hospital), and Bon Secours Health System of Baltimore. I also performs surgical procedures at the Windsor Mill Surgery Center
PERSONAL:
Dr. Beach Davis prioritizes her life with GOD first, family next, and everything else falling behind. I enjoy being active in EVERY facet of her families lives. I am happily married with two EXTREMELY active high school and college age children. I am a TRUE sports mom (football, lacrosse, volleyball, field hockey), and even a Girl Scouts mom.
PHILOSOPHY:
My philosophy in practice and life day to day; is being grateful to God for allowing me the ability to provide patient satisfaction through education and realistic expectations, partnered with professional knowledge and expertise. My staff and I work diligently to assure that adequate information and support are available to EVERY patient throughout each stage of the consultative, treatment, procedural and post operative periods. Our efforts are to make our patient's experiences a positive and memorable one.
THANK YOU FOR YOUR CONTINUED PATRONAGE